Teleprompters
---
News broadcasts and live, multi-camera shoots are demanding projects and as such, they require extremely high-end features from their teleprompter systems. Script changes often need to be inserted into the teleprompter script stream in real time.
---
Our teleprompter  portfolio consist of the following brands: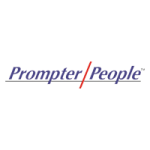 Wide selection of reliable, affordable teleprompters for the professional and consumer marketplace. You decide what combination of features and what price point suits your specific needs. To learn more about each product line, click the blue buttons below, and watch the video below for help in choosing the right teleprompter for your needs. Designed and assembled in the USA with prime American-made beamsplitter glass.