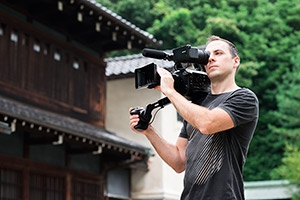 The PXW-FS7 reflects years of intense conversations we've had with documentary shooters. In response, we completely redesigned the grip, improved the viewfinder, optimized the balance and refined the ergonomics. Of course, the FS7 also reflects Sony's expertise in 4K and HD codecs, Super 35 sensors and memory recording. The result is the ideal camera for documentaries—and the optimum tool for magazine shows, reality TV, unscripted TV and more.
Handheld.Long form.Just right.
Sony engineers were on a mission. To provide a sculpted, handheld design that remains comfortable even over the course of long shoots. To support hour after hour of recording—without changing memory cards. To provide the latest in resolution, exposure latitude, and colour reproduction. And to deliver it all in one affordable, practical package. With the PXW-FS7, that mission is a success.
Features
4K Super 35 Exmor® sensor
When it comes to image sensors, size definitely matters. Sony's Super 35 sensor delivers "bokeh," the defocused backgrounds made possible by shallow depth of field. A common technique for directing audience attention within the frame, shallow depth of field is far easier to achieve with a large sensor. Other things being equal, a bigger sensor also equates to better low-light sensitivity and lower image noise. And with bigger sensors, the field of view is wider for any given focal length lens.
14 stops of exposure latitude deliver powerful grayscale rendition without crushing shadow detail or blowing out highlight detail.
ISO 2000 sensitivity enables you to shoot well after sunset, without tons of lighting and grip.
4K resolution. The sensor incorporates 11.6 million total pixels and 8.8 million effective pixels to deliver full 4K resolution. Even if you're delivering in HD, your recordings will capture detail and image texture that HD sensors cannot see.
Sony Exmor® CMOS design makes for extremely fast readout, contributing to frame rates of up to 180 fps and minimized image skew.