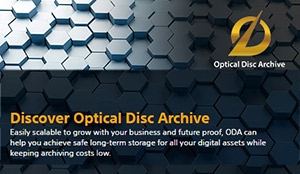 Need to store large amounts of data quickly?
Sony has the backup system you may be looking for with the introduction of its second-generation Optical Disc Archive system. Not only does the system's new optical disc-based cartridges have a 100-year shelf life, but they can store up to 3.3 terabytes of data on each.
By comparison, a standard single-sided Blu-ray disc can store 25GB while a double-sided disc can hold twice that.
Sony is offering the new optical drive system in three components: a stand-alone USB-based unit, an 8GB fiber channel "library" unit, and the cartridges that actually contain the optical media. The overall system doubles the read and write speeds compared to the previous generation, and is supposedly great for real-time 4K video recording.
Sony launched the first-generation Optical Disc Archive system back in 2013. Since then, there have been six drives released spanning a single-slot stand-alone drive to a model packed with 101 slots. Optical disc-based cartridges for these drives include both write-once and rewritable media, and range from 300GB to 1.5TB.
The first-generation systems support data archiving for up to 50 years, so the new generation is quite a jump. The older generation also delivers a maximum data transfer rate of 1.1Gbps and are equipped with a 4-channel pickup head, providing read speeds four times faster than Blu-ray. The second-generation models provide up to 3.3 TB capacity per cartridge and have an 8-channel pickup head, doubling the first generation's speed.
For more information visit:
or download the whitepaper or brochure.
Technology overview: